In Portugal, Silent Space is being installed at EDP and BNP Paribas.
Silent Space is installed in Porto for EDP and in Lisbon for BNP Paribas.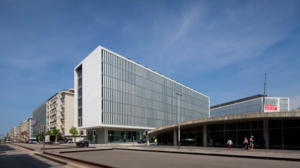 After Spain, EDP – Energias de Portugal – equips its monitoring center with Silent Space devices. Specialized in energy transport for the northern half of Portugal, EDP's operators in Porto work on site in 3x8h, 24/7. In this context of intense activity, it is necessary to reduce the comprehension of parasitic conversations by controlling the quality of the sound environment of the work spaces.
Further south, in Lisbon, it is the international sales team of BNP Paribas who now benefits from the DeciLed acoustic solution.
The sales representatives call customers all over the world in all languages, for every group's activities. Multilingual employees are now aware of the noise they can generate thanks to the luminous indicator that help them to adapt their behaviour for the well-being of everyone.